What do you do if you have one of the most exciting blends of Asian and European culture in the heart of the EU? You visit there as soon as possible and enjoy their culture, food, architecture, and more. Istanbul is a fantastic place to visit, with its grand bazaars, sprawling markets, and food to die for. So today, we are discussing the best food markets you must see and enjoy the best culmination of scintillating aromas and spices.
1.The Grand Bazar – Paradise for Foodies
The Grand Bazar has everything: jewelry, souvenirs, antiques, and stalls upon stalls of street food that water your mouth to no end. Want to get the best taste bud-tingling sensation? Try their Simit bread.
Want to enjoy BBQ and spicy seasoning? Grilled lamb skewers are so tender that they will melt in your mouth. The Bazar is a soothing sight for the eyes, tasty food for your belly, and a fantastic experience for your soul.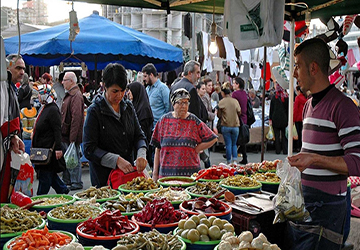 2.The Spice Bazaar
You will never see so many spices in one place as the bazaar is teeming with vendors selling the best kicks in the region.
The Spice Bazaar is a sightful monument to the 17th century, making it a historic site in the Fatih neighborhood. While not known as a food destination, it is still a place to visit and experience the seasoning and spices that make food so outstanding.
3.Ferikoy Organic Market
If more than fresh fruits and vegetables were needed, the market would be filled with other organic products hardly seen elsewhere. The market is a weekly affair only open on Saturdays, where farmers bring fresh farm products and many other organic products. It is also famous for organic home cleaning products, many of the ingredients coming from the Tarakya farms.
Once you are done enjoying what the market offers, you should try their crispy Turkish pastry called the Gozleme, which has tasty fillings.
4.Karaköy Fish Market
You should go there at least once if you love seafood, as the market is full of fresh catches of the day, from fish to shrimps to anything that lives in water. The market is for more than just viewing; you can take any seafood and get it made in nearby cooking stalls or grilled to perfection. Eat the Balik Ekmek, a fish sandwich, and enjoy the bustling market with a majestic view of the waterfronts and ships humming.
5.Kadikoy Market
When you consider food markets, you typically think of food courts where a mix of restaurants is opening their business daily on a busy street. But the authentic food markets are places like Kadikoy market where you will find the most regular items you need. You will find all these things here: organic honey, a mix of dry fruits and nuts, fresh fruits and vegetables, etc.
One exception is the Lahmacun, a Turkish pastry of meat fillings loved as a condiment. You can call it a Turkish flatbread or Pizza with meat, spices, or even sometimes sweet red pepper to enhance the taste.
6.Besiktas Street Food Bazar
Most of the markets in the list are complete on day markets, opening early and closing by the first sign of dusk approaching. Besiktas shines in the night with its vibrant food and late-night culinary delights, where you can take a savory bite from all it offers. Durum, the best Turkish wrap, or Kunefe, a sweet condiment filled with cheese and pastry, is worth trying there.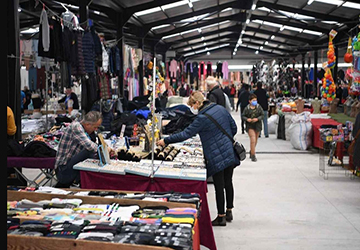 7.Fatih Market – Çarşamba Pazarı
It is now a tradition to visit Fatih Market on Wednesday in Istanbul, as it sells many organic foods and other antiques. Take your time once you are there and enjoy the hustle and bustle while looking out for the best deal for your day's shopping. You can always have chats with different vendors and get a grip on the lay of the land and what things are the best to buy. Combine your food fantasy with a visit to the Sultan Fatih Masjid to be impressed with an iconic Ottoman landmark.
8.Beyoglu Market – Beyoglu Balik Pazari
You can call this market a more European-styled food market in the heart of Istanbul, situated in the Galata district, selling cheese and fresh fish, among many other things. Look for their traditional sweets in some shops or eat a sandwich with traditional coffee in one of the cafes. Enjoy your weekend afternoon here, and then head off to what you love to do in the evening.
9.Ortaköy Market
It's a dream come true if you are there for your foodie's delightful dreams as you can find many tasty treats like Kumpir baked potato or Lokma, a savory donut. The market has impressive scenic views, as it is opened next to beautiful Bosphorus with stunning views of the water mass right next to you. These views and unique and enchanting dishes make your day, especially if you enjoy sitting while sipping local tea or coffee.
10.Ulus Pazarı Market
We finish our list with the Society Market in Istanbul, famous for its weekly clothing fair on Thursdays, having up to 1,000+ vendors once a weekend. But don't let the shine of fabulous accessories and clothes to the fact of enjoying tasty pickles, both spicy and sweet, while you are there.
Closing Comments
Istanbul is the perfect amalgamation of Eastern and Middle Eastern cultures, mixing with Europe in one big city. You need help understanding how this city throws surprises upon surprises at you. Consider at least a month if one week is enough to explore this mesmerizing city. The duration is not just for visiting landmarks and markets but also for enjoying their savory take on many things you thought were the best in your hometown or country.
We hope you know what to look for in this fantastic city once you have visited all these places on the list.