Sweet tooth and ice cream lovers know very well what a Gelato is and how amazing they are from regular ice creams. Eating different flavors from your favorite parlor is like heaven on earth; experience boosts your mood daily. But the favorite parlor varies from licker to licker as they have varying views of what best constitutes their favorite place. So, in this article, we share some of the best Gelato parlors in Florence, the birthplace of Gelato ice cream, by unanimous decision. Let's see which ones these are.
1.Perchè No!
The literal translation to Perchè No! is "Why not?" which is an apt name for a gelateria that opened in 1939 and has served the Gelato lovers of Florence for ages. There are many unique flavors here, such as honey sesame(Miele e sesame), lavender (lavanda), and many traditional ones, which are all high quality and tasty.
The best part is that the owners are amazingly delightful and make you feel welcome whenever you are there. So next time you are in Tavolini, remember to make a small stop at this gelateria hidden away in a side street and taste heaven on earth.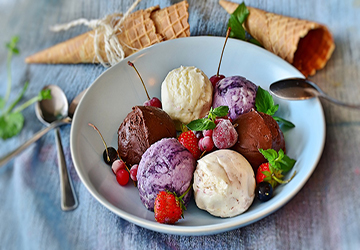 2.Gelateria La Carraia
If you are looking for the softest and creamiest gelato in town, you must visit Gelateria La Carraia. You can find this astounding gelateria in Oltararno, west of Ponte Vecchio, costing you only € 2,50 for a regular cone with the flavor of your choice. There are many flavors, such as mousse tiramisu, pistachio, and chocolate, among many others.
If you are new to this place or gelato in general, you can try the baby cone for only a single euro and taste as many as you can afford.
3.My Sugar
Part of the San Lorenzo neighborhood and the recent "renaissance" of shops opening up there, My Sugar makes 16 flavors daily fresh from organic ingredients. Their blend and taste are loved by locals and students, especially when coming off from work or school. It is a regular affair for them as these are great for your taste buds and light on your stomach. Try out their hazelnut or milk tea variants when there, but chocolate and tiramisu are also a great distraction.
4.Gelateria de' Medici
You go to this gelateria if you want to taste the freshest of the tastes from their ingredients and want unique and enticing blends that you won't find anywhere else. For example, imagine mixing pine nuts and basil to make the best sweet pesto taste; how well will it taste? While visualizing, you may not see the appeal, but you must try similar tastes to get the actual meaning.
5.Carapina
They have quite a few shops in Florence in the past few years, all because they make their gelato from fresh ingredients. Every fruit they use is in season, mixed with fresh milk, honey, and other high-quality ingredients imported from other places. Though this limits the variety of flavors per season, it's worth it if the taste can be this magical.
6.Carabè
This is one of the oldest shops near Accademia Gallery, and all their flavors give a Sicilian touch, which is hard to perfect, and that's why this gelateria is so excellent. Flavors such as dried fig, seasonal fruit sorbets, and Bronte pistachio are beyond this world. After you have tried our recommended ones, you should try their whole list, and you will see what you still need to include.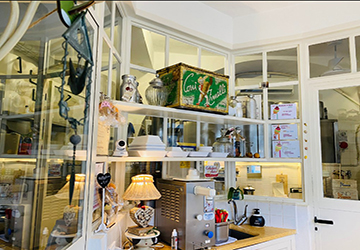 7.Modulate
You can find this breathtaking gelateria not so far from Duomo in Via dei Servi. Most gelaterias on our list ensure their ingredients are as fresh as possible to bring out the incredible taste in their ice creams, and Mordilatte is no different. While you are there and always eat or lick their gelato, you can keep things fresh and try their smoothie or a milkshake. None of their condiments have preservatives, which makes them so tasty.
8.Gelateria della Passera
You will always find the place occupied by a line in this gelateria because of their taste and location near a busy square. Most flavors by the owner are artisanal and freshly made daily, which maintains her gelateria's quality. No wonder she has so many customers daily due to the higher rate.
Some of the best flavors of this gelateria are made with mint and milk in combination with traditional tastes. Still, when you visit the place, you must try their Profumi D'oriente, a sublime mix of lemon, ginger, saffron, and cardamom, among many subtle references.
9.La Sorbettiera
Enjoy the area while eating the fantastic gelato at this place, especially with your kids, as there is a small kids' playground nearby in Piazza Tasso. The husband-and-wife duo love making customers happy with their warm attitude and fresh tastes. You can take your flavor on a cone or cup or make it a gelato sandwich to taste a new flavorful level.
10.Grom
It is a one-in-a-million Gelato establishment in Florence because it has become so popular that it isn't just in many Italian cities but worldwide, especially in the States. Again, the fresher and higher quality the ingredients are, the more you will have customers. Every bite of these gelato treats feels like you are munching on natural fruit, and sometimes tastes much better. So whenever they serve you, they like to beat around the container a little so you will have the smoothest of the flavors when you start eating.
The End of The Taste Line
Eating sweets and condiments is our innermost innate desire; if they taste amazing, it always feels like a slice of heaven. This feeling is so surreal and tingles our senses that sometimes we feel out of this world and devoid of worries. Gelato will always have a similar effect on you if you visit any of these places.