New Zealand has always been synonymous with adventure with its diverse landscapes and topography. From the turquoise lakes to the soaring mountain peaks, it offers a playground for those with an insatiable thirst for adrenaline. Whether you're a local or a traveler looking for NZ adventure travel, the country has something to offer everyone. Here's a guide to some must-do NZ adventures to quench your adrenaline thirst.
1.Skydiving in Queenstown
Touted as the 'Adventure Capital of the World,' Queenstown is the go-to place for New Zealand adrenaline activities. Imagine jumping off an aircraft thousands of feet above the picturesque landscape and feeling the rush of wind against your face. Skydiving here offers a unique bird's-eye view of the Remarkables mountain range and the azure waters of Lake Wakatipu.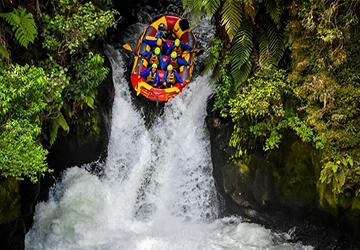 2.Whitewater Rafting in Rotorua
Rotorua is known for its geothermal wonders and as a hub for extreme sports in New Zealand. Riding the raging rapids in a rubber raft can be a thrilling experience. The Kaituna River, with its 7-meter Tutea Falls, offers the highest commercially rafted waterfall in the world.
3.Bungee Jumping off the Auckland Harbour Bridge
The Auckland Harbour Bridge isn't just a structural marvel; it's a beacon for thrill-seekers. Securely strapped in, leap off the bridge, plunging towards the waters below, only to be snapped back by the bungee cord. It's an NZ adventure travel experience that will keep your heart racing.
4.

Caving Adventures in Waitomo
Waitomo is home to a labyrinth of underground caves illuminated by thousands of glowworms. But the actual New Zealand adrenaline activity here is black water rafting. Equipped with a rubber tube, adventurers can float, jump, and scramble through the dark, water-filled caves.
5.Zorbing in Rotorua
Another gem from Rotorua, Zorbing, is as fun as it sounds. It involves rolling downhill inside a transparent orb, like a hamster in a ball, but on a much grander scale. This unique sport originated in New Zealand and is a testament to the country's ingenuity in extreme sports.
6.Jet Boating in the Shotover River
Jet boating might sound commonplace, but doing it in the Shotover River's narrow canyons is one of the top must-do NZ adventures. Feel the adrenaline pump as the boat skims past rocky outcrops and executes thrilling 360-degree spins.
7.Hang Gliding over Abel Tasman National Park
For those who dream of flying, hang gliding over the stunning vistas of Abel Tasman National Park is a dream come true. Riding the wind currents, you'll get panoramic views of the golden beaches and pristine waters below.
8.Mountain Biking in the Whakarewarewa Forest
The Whakarewarewa Forest in Rotorua is a mountain biker's paradise. With tracks catering to all difficulty levels, biking through the Redwoods, with the scent of pine in the air, is an exhilarating New Zealand adrenaline activity.
9.Skiing in the Southern Alps
During winters, the Southern Alps transform into a snowy wonderland. Its world-class ski resorts are a hotspot for skiing and snowboarding, making it an essential stop for NZ adventure travel.
10.Rock Climbing in Wanaka
Lastly, the towering cliffs of Wanaka present a challenging but rewarding rock-climbing experience. Whether you're a beginner or a seasoned pro, the sense of accomplishment after scaling these rugged terrains is unmatched.
11.Paragliding in Wanaka
Wanaka offers an excellent location to soar for those seeking the sensation of flight without an airplane. With the backdrop of the Southern Alps and the shimmering Lake Wanaka below, paragliding offers both tranquility and a hearty dose of adrenaline. It's one of the prime NZ adventure travel options for those who wish to feel the skies.
12.Canyoning in the Coromandel Peninsula
The rugged terrains of the Coromandel Peninsula are perfect for canyoning, one of the must-do NZ adventures.
● Descend Waterfalls: Experience the thrill of rappelling down waterfalls with the lush New Zealand forest canopy surrounding you.
● Slide & Jump: Natural waterslides and jumps into crystalline pools elevate the fun quotient.
● Nature's beauty: Beyond the adrenaline, you're also immersed in some of New Zealand's most beautiful natural environments.
13.Sandboarding at Ninety Mile Beach
Think of it as snowboarding but on dunes. The vast expanses of Ninety Mile Beach provide a perfect setting for this New Zealand adrenaline activity. Glide down the massive dunes, feel the wind on your face, and revel in the breathtaking views of the Tasman Sea.
14.Shark Cage Diving on Stewart Island
For those who wish to experience the true meaning of extreme sports in New Zealand, coming face-to-face with the great white shark is the answer. Stewart Island offers a chance for brave souls to be submerged in a cage and observe these magnificent predators in their natural habitat.
15.Horse Trekking in the Bay of Islands
While horse trekking might not be the first thing that comes to mind when one thinks of adrenaline activities, riding through the pristine beaches, dense forests, and scenic pastures of the Bay of Islands is indeed a soul-enriching experience. With the Pacific Ocean as the backdrop, it's an adventure that combines thrill with serene beauty.
16.Surfing at Raglan's World-Class Breaks
Raglan is a mecca for surfers. The consistent swells, especially at Manu Bay, provide some of the most extended left-hand breaks in the world. Catching a wave here is undoubtedly a must-do NZ adventure, whether you're an amateur or a pro.
17.Glacier Hiking at Franz Josef
Walking on a moving glacier is as thrilling as it sounds. Franz Josef, located on the West Coast, offers a unique chance to hike on its ever-changing glacial landscape, walk through ice tunnels, and behold the marvel of nature's raw power.
Conclusion
New Zealand is undeniably a haven for adventure enthusiasts. Its diverse range of activities caters to every kind of thrill-seeker. From skydiving to caving, each NZ adventure travel experience promises adrenaline and memories that last a lifetime. So, if you constantly seek extreme sports in New Zealand, look no further. The land of the Kiwis is ready to quench your thirst for thrills.